Truck Lettering
Transform your truck
with
truck lettering and graphics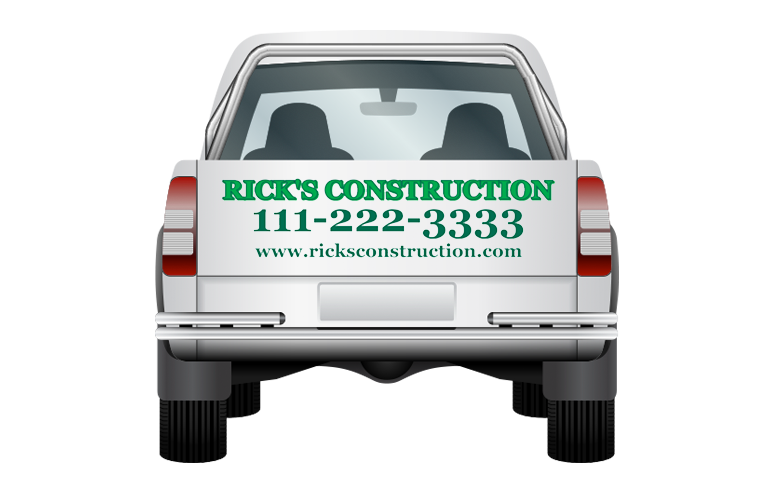 Looking for decals for a specific area?
Save Money With Custom Truck Decals
Vinyl truck lettering, graphics, and custom truck magnets are an excellent way to market your business. With some easy to apply vinyl truck lettering, you can turn your truck into a moving billboard. Just order the basics or use your creativity and get everyone talking about your ride. Dollar for dollar truck decals are one of the most cost effective forms of advertising! You can save even more by installing them yourself, we'll show you how!
Transform Your Truck
Here at Speedy Signs transforming trucks is our passion. While some shops may consider truck door lettering and decal application time-consuming and hard to design our designers absolutely love transforming vehicles and would like to work with you to create a unique one-of-a-kind design. Check out a few of our transformations in this video. So why wait to transform your truck get started today with our online design tool or contact us for free design help. Worried if you are selecting the right product for your project, need help with installation or any other questions? Our sign experts are just a phone call away.
Easy to apply Truck Door Lettering, Graphics & Decals
Our truck door lettering and graphics comes pre-spaced, masked and ready to apply in 1 application. We have lots of tips and tricks to ensure your installation goes smoothly.

Vehicle safe
Our truck vinyl is completely removable and will not damage your paint. All of our materials use safe to remove adhesives to ensure your vehicles paint is safe.
100% Waterproof
Our truck door vinyl lettering is created to hold up outdoors for many years. Waterproof and even washable, water does not effect the quality of your vinyl in any way.
#1 ROI
Fastest & cheapest way to transform your truck! Truck door decals and graphics are a proven & cost effective way to advertise any business or products you offer.
Why choose Speedy Signs?
Ridiculously fast
If you order before 3pm EST and have good artwork, your order ships the next day!
Top quality
We use top of the line brand name premium products such as 3M, Avery, and Oracal.
Goof proof
If you goof up the installation of your lettering we'll replace the vinyl for free!
Industry experts
Our sign experts are just a phone call away to walk you through getting the perfect vinyl.
Get Started With Truck Lettering Now!