Tailgate
Transform your truck
with
truck tailgate lettering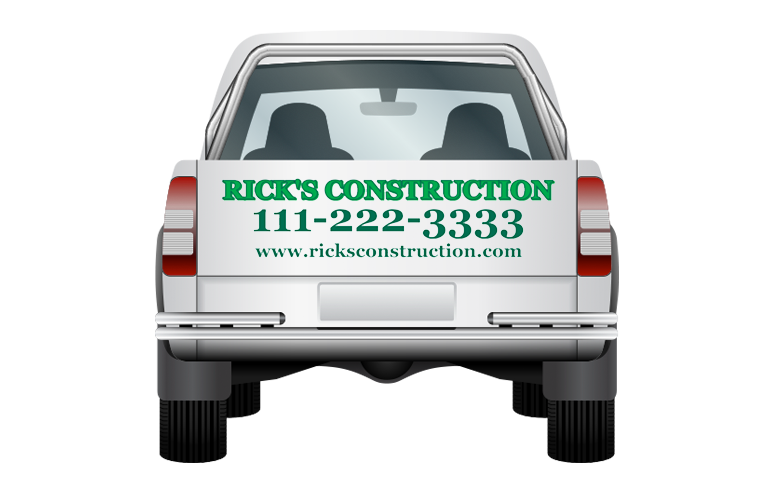 Easy to Install
100% Customizable
Goof Proof Guarantee
Popular Tailgate Lettering Templates
Truck tailgate decals are a fun way to add personality to your ride
There are a lot of cool graphics available, just browse our templates above to start brainstorming for ideas. Most of our artwork can be customized by adding a name, design, logo or anything else you can imagine to design a truck graphic that is uniquely you. We can even scan in custom artwork and print it onto vinyl truck decals that are easy to apply in minutes. It is amazing how a few well designed and thought out decals can completely change the look of your truck.
Truck Tailgate Lettering
Watch our quick video for inspiration and ideas of ways you can transform the look of your truck tailgate. Our truck tailgate wraps and decals are 100% customizable and our designers will work with you to get the exact look you are after. Our truck tailgate lettering is printed on premium name brand vinyl materials such as 3M, Avery and Oracal, that will last for years. It is waterproof and durable and even can protect your paint finish. With constant in and out use, the truck tailgate is generally one of the first areas to get scratched. A custom truck tailgate wrap can protect your truck's paint finish & prevent scratches. Our truck tailgate lettering comes pre-spaced and masked so it is easy to apply.
Easy to apply
Our truck vinyl lettering comes pre-spaced, masked and ready to apply in 1 application. We have lots of tips and tricks to ensure your installation goes smoothly.

Vehicle safe
Our truck vinyl is completely removable and will not damage your paint. All of our materials use safe to remove adhesives to ensure your vehicles paint is safe.
100% Waterproof
Our truck vinyl lettering is created to hold up outdoors for many years. Waterproof and even washable, water does not effect the quality of your vinyl in any way.
#1 ROI
Fastest & cheapest way to transform your truck! Vehicle decals are a proven & cost effective way to advertise any business or products you offer.
Why choose Speedy Signs?
Ridiculously fast
If you order before 3pm EST and have good artwork, your order ships the next day!
Top quality
We use top of the line brand name premium products such as 3M, Avery, and Oracal.
Goof proof
If you goof up the installation of your lettering we'll replace the vinyl for free!
Industry experts
Our sign experts are just a phone call away to walk you through getting the perfect vinyl.
Get Started With Truck Lettering Now!