Welcome to SpeedySigns New York Banners shop.
Ready to order?
We make ordering your Banners online, quick, easy & fun.
Choose a product below to get started.
...the church signs turned out better than we could ever imagined. Your customer service team was outstanding. We will certainly be back to order soon!

Nancy Gilham

New York, New York

The quality was great, the service was great, I will be doing all my printing at SpeedySigns.com, they understood my needs and their customer service was outstanding.

Allan Garrels

New York, New York

Was very nice to actually deal with people for a change and know that they were working on my order and it just wasn't some computerized, automated process.

Tameka Kua

New York, New York

This was my first experience with SpeedySigns.com and it definitely will not be my last. The banners turned out great. I highly recommend them!

Rosalinda Osornio

New York, New York

SpeedySigns have the best tools for designing your sign on their site, it was so easy to use. I plan to order more products from them and highly recommend them!

Ericka Pontes

New York, New York

Very helpful, speedy and very nice to work with. This is our second order with SpeedySigns and we are pleased with the product and service we have received. Keep up the great work!

Mathew Gadd

New York, New York

I chose my own design, had it delivered faster and less expensively than my other options. Supervisors are so impressed, they are asking for more!

Jamie Shinkle

New York, New York

Outstanding company to do business with. Very pleasant, responsive customer service. Order was shipped fast and the products exceeded my expectations.

Ashlee Popejoy

New York, New York

Just perfect - They provided samples of very small lettering for my boat instrument panel that no other shop could make - It worked out perfectly

Kelly Chretien

New York, New York

I would recommend SpeedySigns.com for anyone that needs custom signs!!! The quality of the signs is excellent. We will be using them again in the near future!

Saundra Asper

New York, New York

Very dependable. Their customer service is second to none and the quality of the product far exceeds anything I have seen thus far. Thank you SpeedySigns

Mathew Keesling

New York, New York

They forgot to include the adhesive mounting strips, but when I contacted them by e-mail they were responsive, apologetic and quick to send the missing strips

Jeanie Helper

New York, New York

..their follow up, suggestions on the sign, proofing of the sign, and prompt delivery is excellent. I would not hesitate to buy from them again. Quality customer service really makes a difference.

Clayton Vanderbilt

New York, New York

Just received my vinyl banner from SpeedySigns a day ahead of the expected delivery. They provided the same excellent service that they did a year ago when I first ordered from them

Jerri Mcgilvray

New York, New York

Our company was more than thrilled with the expertise, professionalism, and willingness to help us reach our order goals/deadlines. These guys do great work.

Maricela Straube

New York, New York

We will now be partnering with them in the future. From the excellent customer service and the time they put forth in assisting us we were pleased with the entire process.

Ted Cerezo

New York, New York

They processed my order and called me to ask me if they could change the color on the sign so that it would be more visible and I agreed. I am glad they called to tell me that it wasn't visible

Lonnie Casselman

New York, New York

This was my first order with Speedysign.com, so I was a bit anxious about the entire process. The design process is very straightforward, even for someone like me!

Christian Kamaka

New York, New York

I was extremely pleased with the quality of my garage sale signs and banners that I ordered. I have placed another order since! Thank you, SpeedySigns!

Jamie Bozell

New York, New York

Spectacular product, fantastic design software, was a breeze to use; items come exactly as pictured; FAST, well packaged and application is PERFECT.

Jamie Bozell

New York, New York

I have been a long time customer of SpeedySigns. When I am looking for signage of any kind I look to SpeedySigns first because not only do they do the best work, they do it fast.

Darren Kronenberg

New York, New York

Their pricing is very good and their quality is second to none. Save yourself some time, and Go with Speedysigns. You will not be dissapointed.

Sharron Combest

New York, New York

They care about the product and their customer service and I appreciate that. A great big thanks. The church signs turned out really great. Top quality work. Thank you SpeedySigns

Guy Krum

New York, New York

If there are any questions about the order they will always contact you and help you fix any problems. Now that is costumer service! They really go above and beyond.

Erik Nottage

New York, New York

I have been ordering my signs and banners from SpeedySigns for a number of years. They have done an absolutely wonderful job each and every time. I will be a customer for life.

Jami Harvison

New York, New York

Ordered some banners for my son's birthday party. Very good quality and fast delivery, not to mention they were the cheapest place online. You guys rock.

Mathew Stegman

New York, New York

With convenient online ordering and faster turnaround times than your New York sign shop. Why buy your Banners anywhere else?
Order your Banners by 3pm, they will ship the next day.
Convenient online ordering. Order your Banners 24/7!
Better prices than your New York sign shop.
We cater for all your marketing needs from Banners to print.
High quality Banners. We only use the best materials available.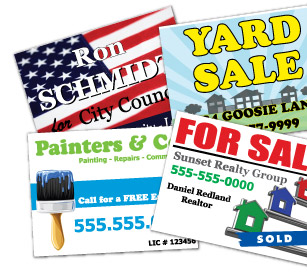 Browse our top selling products

Why Shop for Banners - New York?
SpeedySigns.com has proudly been serving the residents and businesses of New York since 1996. Our focus is to make your Banners purchase quick and easy.
This online store was set up for you to get your custom banners quickly and efficiently. banner orders submitted by 3pm leave our production facility the very next day (for in-stock items only). Shipping to New York normally takes 3-4 days, so you can rest assured that you will have your customized banner in less than a week. Not fast enough? Not a problem. We have Next Day Air shipping available, so you can receive your custom banner in less than 2 days, which is faster than your local banner shop!
By using our user friendly online design tool, you can design and buy your custom banner online all from the comfort of your own home or business. In order to have a custom banner on your doorstep in a matter of days, you only need to follow a few simple steps. First, choose whether you want to Design Your Own or Choose a Template. Then, pick from the various material and size options, customize it, pay and you are all done. All in a matter of minutes! Now, all that is left is to sit back and wait for your banners to arrive. Still have questions? Contact our awesome Customer Support Staff today!
New York, NY is the most populated city in the middle of the one of the most populated metropolitan areas in the world. New York is known for the Empire State Building, the Statue of Liberty, Ellis Island, Broadway theater productions, and numerous museums, parks, and events. With a population of over 8 million and drawing in over 40 million tourists a year, there is no better time to make sure your business or event stands out by ordering a custom banner from SpeedySigns.
Need some assistance in designing your banners? Not a problem, we have experienced graphic designers on staff or you just choose from one of these local signage design companies.
Potion Design, 265 Canal Street, #604, New York, NY
NYC Design Gurus, New York, NY
Blue Fountain Media, 102 Madison Ave, New York, NY