Boat Lettering
Boat Lettering
Easy to apply lettering and graphics
Custom match style and color
Registration is federal compliant
Order letters and graphics online
Lettering Options
Boat Registration
At SpeedySigns.com, we make obtaining your boat registration letters a breeze. Our online design tool is already set up to comply with registration lettering requirements. Our vinyl lettering uses the Arial font and is sized at 3" high X 22" wide.The lettering comes in a matching set for both sides of your boat. This way our customers can spend more time enjoying their boat and less time worrying about their boat registration letters.
Boat Lettering
Our custom vinyl boat letters are just what the Captain ordered! Our boat lettering is easy to apply and will last for years. The lettering can be customized to match your choice of color and the font-style that suits you best. Our easy-to-use lettering design tool will help you create and order custom boat lettering for your vessel. Ahoy Matey!
Boat Graphics
Look your best on the open water with our custom boat graphics. Our premium vinyl boat decals are ready-to-apply, meaning you can enjoy the new look of your boat not long after you receive your graphics. Your new boat graphics can be customized with a mix of boat lettering and vinyl boat decals using our interactive online design tool. If you are ready to take your boating experience to a whole new level and be the envy of all your mates, order your custom boat graphics now.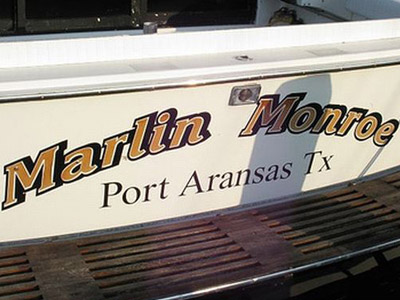 Why Choose Us
Fast Turnaround Times
Order by 3pm and your boat graphics will ship the next business day. Anchors Away!
Intuitive Design Tools
With our online design tool you can create amazing lettering or graphics for your boat.
High Quality Materials
We use marine-grade boat lettering that will withstand the harshest elements.
Excellent Quality Control
Your boat lettering order will get inspected extensively before shipping.
Hassle-free Experience
With our online features you get what you want, exactly how you want it.
100% Satisfaction Guarantee
If you aren't happy with your boat lettering, we will not quit until you are.
Boat Lettering FAQS
Will my boat lettering be affected by saltwater or other elements in the water?

Not at all. Our premium vinyl boat lettering is waterproof in saltwater or freshwater. Nothing to worry about there.

How big may my boat graphics be?

We can create virtually any size boat graphic you can imagine. The graphic may be shipped to you in sections because of the limitations of the printers. But that would be a very big graphic. What size would you like?

What is the difference between boat lettering and boat graphics?

That is a very good question and one we get asked all the time. The only real difference between our boat lettering and boat graphics is the boat graphic is more of a vinyl decal then the boat lettering. Obviously, one's a letter and one's an image.
Will my boat registration lettering comply with the laws of my local and state governments?

SpeedySigns.com has taken every step possible to make boat registration letter ordering as easy as possible. Our registration lettering complies with Section 173.26 (a) (1) of Title 33 of the U.S. Federal Regulations Code.

What use would I have for boat lettering?

Some of the most common uses for boat lettering would be registration lettering and decoration. Many people who own boats like to name their boat. Lettering displays this proudly.

May I add a graphic with my boat lettering?

Certainly. As a matter of fact, most people mix their lettering with an image. That's one way to make your boat stand out.
"I just received my boat lettering and graphics. Applying them was about a five minute job. Now my boat looks like it has a little bit of personality. I can't wait to get it out on the water."

Brett Mayers
Cedar Key, FL

"I love saltwater fishing. Now that I have my new boat registered and my registration letters displaying, I am ready to go catch some big ones. Thanks for making the process so easy."

Winston Blackwell
Socastee, SC

"From the minute I named my boat I knew how I wanted the name to look. Using your do-it-yourself tool, I created exactly the look I had envisioned. Pretty good, considering I'm not much of a computer guy."

Dennis Baker
Petersburg, VA
Our aim is to make your signage purchase as easy, and as worry free as possible. If you need assistance placing an order, or have a question about any of our products, our highly trained support staff are standing by to help.
Email us: info@speedysigns.com
Call us: 1.866.846.7446
You have no items in your shopping cart.
Business Solutions
Save time, hassle and money with tailored solutions to help protect your brand and grow your business.
More Information »
Fast Turnaround
Order by 3pm ET and your order will ship the next day!* Same day rush shipping options also available.
See Shipping Information »
Customer Service
Need help? Our world-class
customer service team is
standing by to help answer
any of your questions at
1-866-846-7446
Contact Us »